Sunday, February 18, 2007
Posted by LOUI$$ at 01:10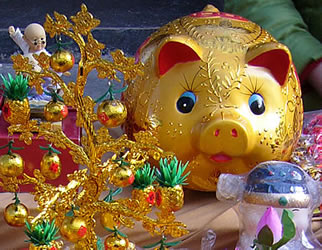 Hi......"Xin Nian Kuai Le, Gong Xi Fa Cai"!!! I now celebrating new year, chinese new year. All chinese will celebrate this festival once a year, and this year is for "PIG". But for me this year is boring, because my home town don't have internet connection. I will be back in this few days with a new template!

UPDATED : SlashMySearch have a member prove to get their money already, please click here to view. So to sign up slashmysearch to earn money? Just click here.

Technorati Tags: slashmysearch, lifelog, blogging revenue, chinese new year, blogger

6 Comments:
2/18/2007 4:23 AM

HI Loui$$ Bro,
Happy New year man, May the year bring you more peace and prosperity , happy blogging!!!
Regards
ugyen

2/18/2007 7:26 AM

Thanks a lot,I'm Chinese blogger talk about blogger life.I'm your RSS reader,best wishes to you too.

2/18/2007 3:18 PM

Happy Year of the Pig!

I hope it's not too boring for you.

Okay, I'm headed over to slash my search right now!

Thanks for the link,
Paula

2/20/2007 5:41 PM

The first 3 days of CNY were really quiet, I was almost bored to death.

Anyways, today back to work again, the roads are pretty clear, no jam at all, office is quiet too, many are still on leave.

Cut the crap, just dropped by to say "Happy CNY" and "Gong Xi Fa Cai"

2/20/2007 5:41 PM

Good to know you visited your home town during Chinese New Year. I am not Chinese but am expose on how Chinese celebrate this event because my preschool child attend to Chinese school.

Regards and keep blogging!
Ruben

2/20/2007 10:37 PM

Thanks to all, and wish you all Happy everyday !!!!

Blogging,Tutorials,Tricks,Technology,Reviews,Gadgets,Tips and Make Easy Money Online.